Brand new t-shirts now available for your consumption!
We have brand new screen-printed t-shirts available in limited quantities for purchase. The price is $10 per shirt, and adult sizes M-XL (S and XXL SOLD OUT!) are currently available. If you cannot physically pick one up from one of the hosts, we can mail it to you for the additional price of $5 ($7 for two shirts) postage. To reserve a shirt, email
melkor
with your desired size(s) so we can make sure they are still available.
Online request system now working
As many of you may know, the online request form at
wrek.org
has not been working for almost a year. Well, thanks to the efforts of a team of highly trained crocodilians, functionality has now been restored! So do not hesitate to blow up our computer with myriad requests! (You can still call in as always....)
New, free WREK Online app now available for Android (no iOS) devices
You can easily listen to the WREK live-stream, or click on any WREK specialty show including WREKage, to listen to the most recent archive.
Best of all, it was written by legendary WREKage host John Selbie!
Be sure to look for the "WREK Online" app written by John Selbie -- accept no substitutions!
Numerous shows added or updated in the concert calendar
Check out all the upcoming dates by clicking on the "Events" tab, above and to the left.
Angra, Blind Guardian, Enforcer, King Diamond, Origin,
and
Slayer
are just a few of the bands coming to Atlanta in the next few months!
MANOWAR show postponed again (was November 12th, 2014)
This show will be rescheduled and all previously sold tickets will be honored. If you know that you cannot attend you may obtain a refund at the point of purchase.
WREKage voted Best Non-Commercial Radio Show in Atlanta 2012!
WREKage received the Readers Pick "Best Non-Commercial Radio Show" Award in Creative Loafings annual "Best of Atlanta" for 2012. (No award was given for 2013.) Thank you to all who voted! We promise to keep kicking ass every Friday night.
WREKage Facebook page now has an easier link
WREKage can now be found on Facebook at
www.facebook.com/wrekageatl
. Feel free to share it everywhere!
WREKage featured on The Left Hand Path
The wonderful Stewart Voegtlin included a writeup on WREKage in the first installment of "Atlanta is Burning," a quarterly feature in his online zine
The Left Hand Path
. A direct link can be found
here
. Atlanta bands interested in having their demos reviewed in future installments can contact him via the Atlanta Metal Forum.
06/06/2006 -- Twenty-Four Hours of WREKage
Yep,
WREKage
made radio history and took over the WREK-FM airwaves for a full twenty-four hours on this, the most special of days for metalheads worldwide. We started up at midnight and continued all day Tuesday, June 6th. Check out the
playlist
!
If you are interested in acquiring any portion of this broadcast, or all of it, contact Paul C. via the "About WREKage" page.
This was only preceded by the multi-day airing of the entire Merzbox CD collection a few years ago. Some claim we did it because three days of Merzbow was just not enough.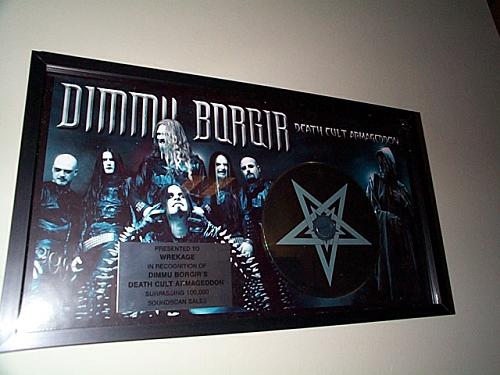 This plaque hangs in the WREK-FM lobby!
(It is actually nowhere near as big as that photo looks....)