WREKage will be co-sponsoring the Battle of Georgia contest
The contest, open to hard rock and metal bands from throughout the region, will be held in stages. Preliminary rounds will come first, then semifinal rounds, and then the finals.
The overall winning band will receive $1,000.00 cash, $500.00 gift certificate to Guitar Center, 30 hours studio time at Virtuo Sound Studios with Josh Hack, music video by El Haney Video Productions (Stuck Mojo, Fozzy, DNM, etc.), a professional photo shoot and more....
2nd place finalist: $500.00 cash, $200.00 at Guitar Center, 20 hours at Virtuo Sound Studios and more....
3rd place finalist: $250.00 cash, $100.00 at Guitar Center, 10 hours at Virtuo Sound Studios and more....
More information and band sign-up info is available at
www.fulldecibel.com
.
Numerous shows added or updated in the concert calendar
Check out all the upcoming dates by clicking on the "Events" tab, above and to the left. Nile, Midnight, Iced Earth, Ghost, Overkill, Sabaton, and Deathhammer are just a few of the bands coming to Atlanta in the next few months!
MANOWAR show rescheduled for Wed. November 12th
Per the Masquerade,
"Due to the severe weather of the past few days and the State of Emergency declared by President Obama and Governor Deal, The MANOWAR show scheduled for tonight will not take place.
That is the bad news.
The good news is that MANOWAR has agreed to return to play a rescheduled show on Wednesday, November 12th!
All tickets for the 2/13 show will be honored for the November show, so hang on to them! If you know that you cannot attend you may obtain a refund at the point of purchase.
We are sorry for any difficulty, but hopefully now everyone will get to see the show we have been waiting for for so long."
WREKage voted Best Non-Commercial Radio Show in Atlanta 2012!
WREKage received the Readers Pick "Best Non-Commercial Radio Show" Award in Creative Loafings annual "Best of Atlanta" for 2012. (No award was given for 2013.) Thank you to all who voted! We promise to keep kicking ass every Friday night.
WREKage Facebook page now has an easier link
WREKage can now be found on Facebook at
www.facebook.com/wrekageatl
. Feel free to share it everywhere!
WREKage featured on The Left Hand Path
The wonderful Stewart Voegtlin included a writeup on WREKage in the first installment of "Atlanta is Burning," a quarterly feature in his online zine The Left Hand Path. A direct link can be found here. Atlanta bands interested in having their demos reviewed in future installments can contact him via the Atlanta Metal Forum.
06/06/2006 -- Twenty-Four Hours of WREKage
Yep, WREKage made radio history and took over the WREK-FM airwaves for a full twenty-four hours on this, the most special of days for metalheads worldwide. We started up at midnight and continued all day Tuesday, June 6th. Check out the playlist!
If you are interested in acquiring any portion of this broadcast, or all of it, contact Paul C. via the "About WREKage" page.
This was only preceded by the multi-day airing of the entire Merzbox CD collection a few years ago. Some claim we did it because three days of Merzbow was just not enough.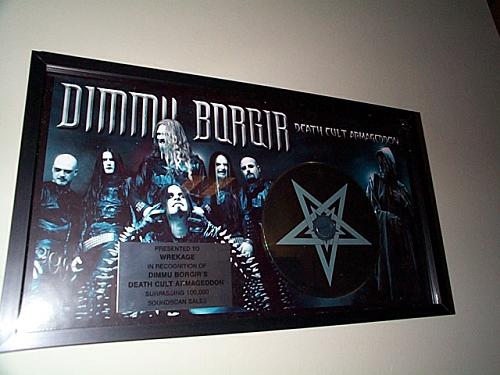 This plaque hangs in the WREK-FM lobby!
(It is actually nowhere near as big as that photo looks....)