Tickets for Days of the Dead Feb. 5-7? We`ve got some!
We will have a few more full 3-day tickets available for
Days of the Dead
, including appearances by Pantera`s Phil Anselmo and Rick Flair (and many horror greats), to give away on the air this coming Friday night! The event is the weekend of Feb. 5-7 at the Sheraton Downtown.
Due to weather concerns, our all-covers show has been postponed
When we do it, we will play some of our own choices and a selection of your choices as posted on our Facebook group. We can`t get all of them, but we`ll get a lot of `em! We will update the page when we reschedule the date.
Numerous shows added or updated in the concert calendar
Check out all the upcoming dates by clicking on the "Events" tab, above and to the left.
Cradle of Filth, Carcass, Lamb of God, Moonspell, At the Gates, Enforcer, Cannibal Corpse, Obituary, Cryptopsy, Warbringer, Archgoat, Exmortus, Napalm Death, Prong, Luca Turilli`s Rhapsody
and
Primal Fear
are just a few of the bands coming to Atlanta in the next few months!
New, free WREK Online app now available for Android (no iOS) devices
You can easily listen to the WREK live-stream, or click on any WREK specialty show including WREKage, to listen to the most recent archive.
Best of all, it was written by legendary WREKage host John Selbie!
Be sure to look for the "WREK Online" app written by John Selbie -- accept no substitutions!
WREKage voted Best Non-Commercial Radio Show in Atlanta 2012!
WREKage received the Readers Pick "Best Non-Commercial Radio Show" Award in Creative Loafings annual "Best of Atlanta" for 2012. (No award was given for 2013.) Thank you to all who voted! We promise to keep kicking ass every Friday night.
WREKage Facebook page now has an easier link
WREKage can now be found on Facebook at
www.facebook.com/wrekageatl
. Feel free to share it everywhere!
06/06/2006 -- Twenty-Four Hours of WREKage
Yep,
WREKage
made radio history and took over the WREK-FM airwaves for a full twenty-four hours on this, the most special of days for metalheads worldwide. We started up at midnight and continued all day Tuesday, June 6th. Check out the
playlist
!
If you are interested in acquiring any portion of this broadcast, or all of it, contact Paul C. via the "About WREKage" page.
This was only preceded by the multi-day airing of the entire Merzbox CD collection a few years ago. Some claim we did it because three days of Merzbow was just not enough.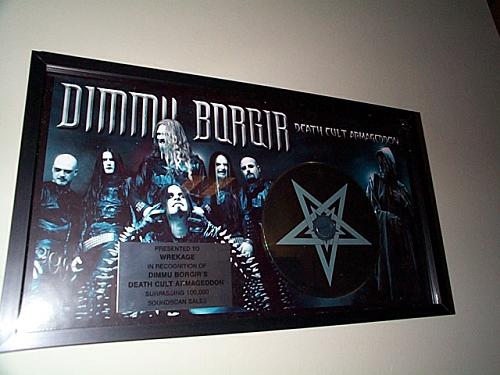 This plaque hangs in the WREK-FM lobby!
(It is actually nowhere near as big as that photo looks....)